11.6.3 Paid in
This function can be used to make a deposit into the drawer regardless of, for example, the opening float. This operation can be performed only by specifying a reason. Thus, no unauthorized person can deposit cash into the drawer.
Open the retail7 app.

Enter the login data and log in.

Open the Cash management menu.
This menu provides an overview of all the functionalities of the retail7 app with regard to cash management. We must be very careful with these settings, since cash management is the basis of the POS system. Only in this way can the transactions carried out be logged correctly and without errors.
4. Select Paid in.
5. Specify the Reason for the deposit and confirm the window with OK.
Standard: Money must be deposited by the user.
Petty cash: deposit money to cover current expenses.
Charity collection: A donation was received.
Pay-out correction: Too much was given out and now some amount has to be paid in again.
Training: if the action is executed as part of a training course.
Other: The reason is not present.
A deposit can be made only by specifying a reason. Thus, no unauthorized person can add money to the drawer.
6. Define the amount of the deposit.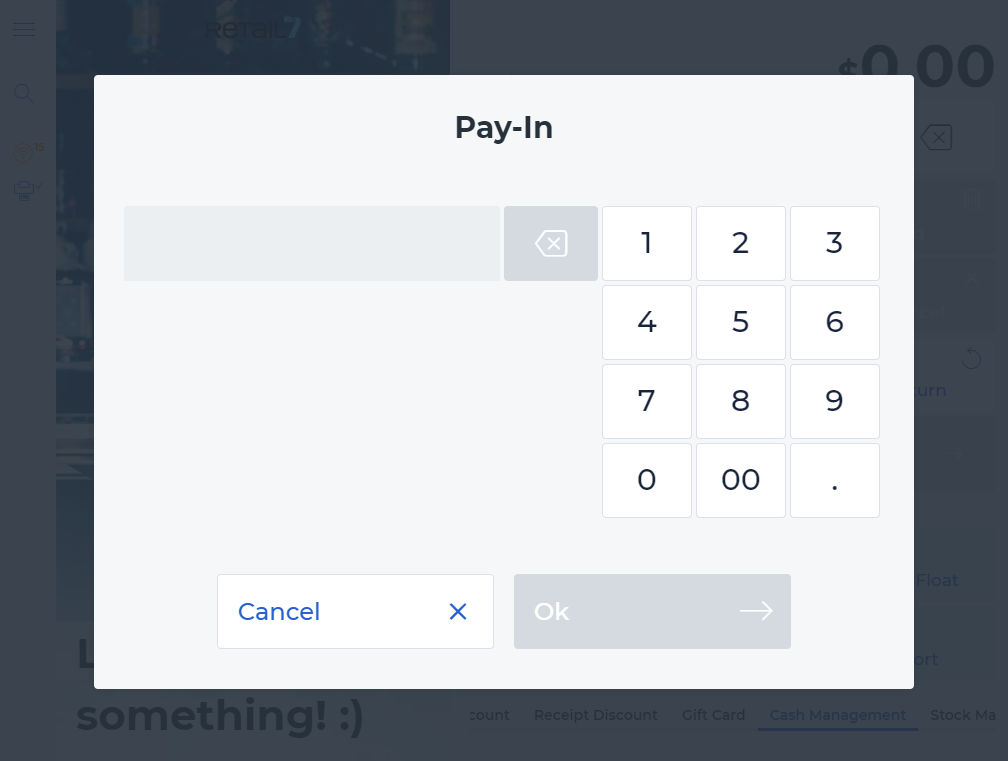 Enter the amount which to be paid in - this amount is registered in the system as a deposit. This keeps it separate from the other deposit and withdrawal processes at the retail7 POS system.
7. Click OK.
Afterwards, the user is back to the transaction overview. This can be inactive or active. If it is active, an open shopping cart with a specified amount is displayed. For more information, see the General operation section.