7.4.3 Communication
This area contains all the information regarding the communication channels offered by retail7. For example, it is possible to send an email with reports.
7.4.3.1 Email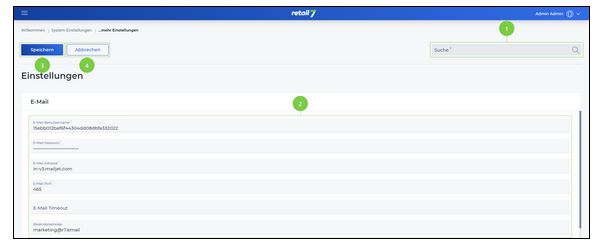 1 Search for list elements
Enter the desired search term in the search. 

Click on the magnifying glass. 

Wait for the result and select a desired setting. 
2 Edit window
3 Save entries
4 Close editing window
7.4.3.1.1 Create email
This email address is used to send the reports generated by the POS system. These reports can be saved locally and called up again at a later time. This creates an overview with all the important information for the retail7 POS system.
Open the menu → System settings.

Open Email under the Communication submenu.

Set an email user name.

Insert an email password. 

Specify an email address. 

Define the corresponding email port. 

Define when the email timeout takes place.
After this time, the mailbox is put into standby mode. When it is needed again, it can be reactivated.
8. Specify a return address.
This email address is used to send the content, such as reports.
9. Define the sender name.
This name is displayed at the recipient. Therefore, it is advisable to use a unique name that the recipient can assign.
10. Enter an address for feedback.
Feedback will be sent to this address. Information is also available here if the recipient could not receive the email for e.g. technical reasons.
11. Check this box if you want to send a secure email. 
This way the recipient can be sure that this email is safe and will not be sent to the spam folder.
12. Select the email protocol.
13. Click Save.